Public escape and unexplained loss
by vanduc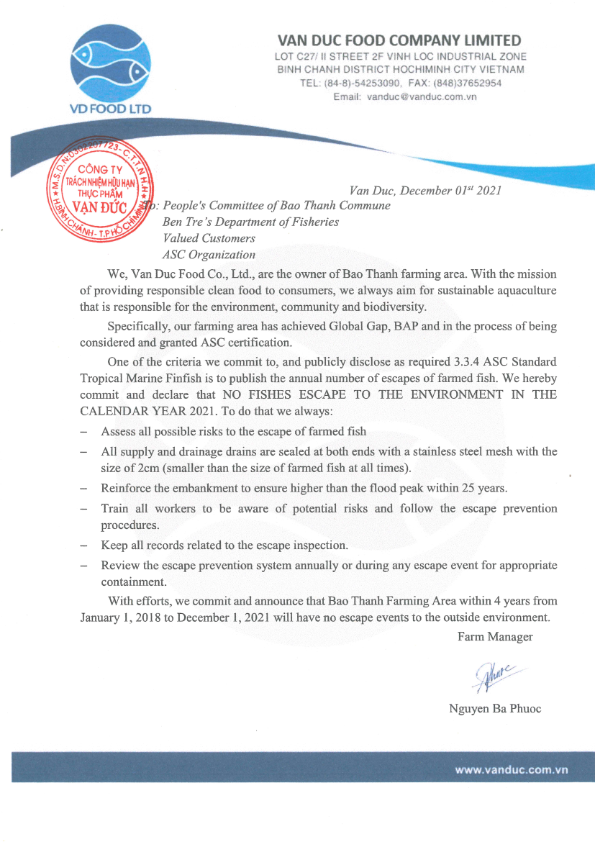 We, Van Duc Food Co., Ltd., are the owner of Bao Thanh farming area. With the mission of providing responsible clean food to consumers, we always aim for sustainable aquaculture that is responsible for the environment, community and biodiversity.
Specifically, our farming area has achieved Global Gap, BAP and in the process of being considered and granted ASC certification.
One of the criteria we commit to, and publicly disclose as required 3.3.4 ASC Standard Tropical Marine Finfish is to publish the annual number of escapes of farmed fish. We hereby commit and declare that NO FISHES ESCAPE TO THE ENVIRONMENT IN THE CALENDAR YEAR 2021. To do that we always:
Assess all possible risks to the escape of farmed fish

All supply and drainage drains are sealed at both ends with a stainless steel mesh with the size of 2cm (smaller than the size of farmed fish at all times).

Reinforce the embankment to ensure higher than the flood peak within 25 years.

Train all workers to be aware of potential risks and follow the escape prevention procedures.

Keep all records related to the escape inspection.

Review the escape prevention system annually or during any escape event for appropriate containment.
With efforts, we commit and announce that Bao Thanh Farming Area within 4 years from January 1, 2018 to December 1, 2021 will have no escape events to the outside environment.
Farm Manager


Nguyen Ba Phuoc
---